Kami

rosedelightshop

(Usahawan muslim) adalah pembekal

chocolate dipping

berjenama

Aatls

. Fountain

Chocolate dipping

adalah merupakan coklat yang paling sesuai kepada mesin chocolate fountain kita kerana coklat ini mempunyai

kecairan yang paling sempurna

bagi mesin chocolate fountain.
Katakan tidak kepada
Chocolate compound biasa
kerana antara punca-punca mesin pancuran anda meragam dan rosak adalah kerana pemilihan penggunaan chocolate dipping yang
tidak betu
l.
Fountain Chocolate Dipping ini membolehkan anda
mencairkan chocolate dgn lebih cepat
,
kecairan chocolate yang tepa
t dan
tanpa perlu penambahan bahan-bahan campuran lain
kedalam chocolate
anda yang mungkin merosakkan chocolate anda.
Memperkenalkan,
58% Dark Fountain Chocolate 1kg.
| | |
| --- | --- |
| | |
Chocolate Fountain Covertures
Chocolate Line Fountain Chocolate is a premium formulation specially created for chocolate fountains! It melts perfectly into a free-flowing cascade without the need to add anything. Fountain Chocolate uses only the finest freshest ingredients. (You don't have to add any oil into the Fountain Chocolate)

Pure 58% Dark Fountain Chocolate Couverture
Chocolate Line 58% Dark Fountain Chocolate is produced from the highest quality of cocoa beans. The texture of the chocolate is silky smooth, rich and full-flavoured - a unique blend of mellow West African and exotic South American beans. 58% Dark Fountain Chocolate is most suitable for chocoholics who have a penchant for an intense flavour without the overwhelming taste of sweetness.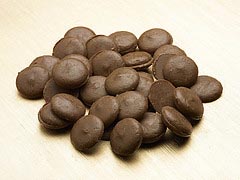 Pick the right chocolate for your Chocolate Fountain Machine
Using the right Fountain Chocolate is the key for running the success of the Chocolate Fountain .
Chocolate Fountain – Who doesn't love it? Chocolate Fountains are really a fun dessert item and is always the center piece of your party. Perfect for social events, baby birthday, house warming, company function and is also now become a popular item at weddings. Make it a success of the Chocolate Fountain Show or Candy Buffet Show by using the right kind of Fountain Chocolate and melting it the right way. The best kind of Chocolate to use for the fountain machine is Chocolate-Line Fountain Chocolate, specially formulated for the chocolate fountain. It has the best fountain chocolate quality and also the texture is smooth for your fountain machine. If you try to use other bakery chocolate, like bar chocolate, you will need to add oil into the bar chocolate. This will harm your machine especially the home fountain machine. Besides, the taste is yuck….. Don't you dare to try it!!!
Rosedelightshop
30, Ground Floor, Block 4
worldwide business park
Jalan Akido 13/46, Seksyen 13, shah alam,
selangor.
Tel : 016-2637676(man)
azmanrunie@yahoo.com
Weekday 10.30-7ptg
Sat 11-7ptg
sun 12-4Ptg
Landmark... tesco bulatan kayangan. Showroom honda dan kia.
#####Layari blog dan fb kami Rosedelightshop####
#####Layari blog dan fb kami mrchocolatefountain####